---
EPL uses the Library of Congress list of subject headings (LCSH) or locally created authorities (for Indigenous peoples).
All topical subject headings should validate in WorkFlows with authority records.
Every juvenile print item or print equivalent in audio format must have at least one subject heading; add 650 \0$aBig books to records for large format E books in the STORYTIME collection; see also

Subject Headings

for juvenile subject heading instructions.

Subjects should validate with second indicator 0 (LCSH); BSLW requires LAC headings to use second indicator 5 and local headings (when personal/corporate names are subjects) to use second indicator 7 with concluding subfield $2CaAE. Local headings when coded correctly for use as subjects will NOT validate. Cut and paste from authority record OR code as LC (second indicator 0) to assure accuracy (then set indicator and concluding subfield).
Locally-created authority records must be coded with CaAE in the 040. Local notes/X-references added to LC (and LAC) authority records must be coded with $5CaAE.
Subject headings will appear in order of their tag value regardless of their relevance to the description of a work, i.e. 600, 610, 611, 630, 650, 651.
Validation of headings in vendor-supplied records is not necessary; main entries and headings that impact double-cuttering may be validated if necessary to ensure accuracy of spine labels.
All unvalidated headings will be reviewed and corrected after an unvalidated heading report is generated by Backstage Library Works.
---
Always choose the most narrow subject headings applicable to the work in hand, e.g.
African American women diplomats rather than Women or Diplomats or African Americans.
---
2. General Local Policy
Use Indigenous peoples|zPLACE in lieu of Indians of [North America, etc.]
It is EPL's intention at this time to eliminate all uses of the terms "Indian" or "Indians"; instead our preference is to substitute "Indigenous peoples" whenever possible.
Although EPL's use of the subject heading "Indigenous peoples," as a respectful choice of vocabulary for describing native peoples of the Western Hemisphere, is not recommended by the Library of Congress at this time, EPL is using it for collective coverage of native peoples in this region with appropriate geographic subdivisions. Do use specific headings for Alaska natives, Arctic peoples, Eskimos, Inuit, Mayas, Fuegians, M

é

tis, etc. Headings should validate in whole or in part.
Use Indigenous peoples$zAmerica [i.e. native peoples of the Western Hemisphere] for the most general coverage.
As of January 2020 EPL is using an alternative to the 5 regional subject headings which are geographically divisible, i.e.
650 $aIndigenous peoples$zNorth America [or South America, Central America, Mexico, West Indies]
For smaller geographic areas, subdivide as appropriate without including North America, etc.
650 $aIndigenous peoples$zCanada
650 $aIndigenous peoples$zBritish Columbia.
650 $aIndigenous peoples$zAlberta$zEdmonton.
---
For place names, prefer LC subject headings (LCSH), then Library and Archives Canada (LAC) authorities; if neither is available, place names need not validate unless there is a need for x-references (and a strong possibility of variant forms of the same name exists); then a local authority should be established.
Use subject headings for names of Canadian persons and uniform titles for Canadian topics (600, 610, 611, 630) from LC and LAC (which should contain LAC after 2019) and, for topical headings (650), use LC and locally composed headings (created for native peoples of the Western Hemisphere).
Subject headings for family names should be locally established if LCSH headings use a variant spelling in the 100 field (see Authority Procedures: Family names) and the bibliographical work is not genealogical.
Subject headings for computer programs should be chosen from LAC or LCSH; prefer the most current authority record.
---
Cataloguers should validate bibliographic records created in-house only. The shield icon is used for validation and WorkFlows will respond as follows when subject headings match authorities in EPL's online files. E.g.,
600 00 $aNapoleon$bI,$cEmperor of the French,$d1769-1821.
630 00 $aDaily show (Television program)
650 0 $aCooking (Dairy products)
651 0 $a118th Avenue (Edmonton, Alta.)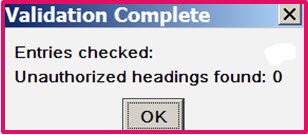 Incorrect tag values and indicators plus differences in subfield coding, capitalization and punctuation will change the validation message to UNAUTHORIZED.
Headings in the form [Name. Title] need not validate on a matching authority unless they are legal works or classical music. (Need to send all new locally created/edited authorities to Backstage on a regular basis.). The Name portion must match the appropriate authority in our local file, i.e. in the following example the Shakespeare portion must match the authority even if the Title portion prevents validation. E.g.,
600 10 $aShakespeare, William,$d1564-1616.$tHamlet.|?UNAUTHORIZED
Headings in the form Name, Place or Topic subdivided by subfields x (or x plus y), z or v will appear to validate in their entirety because WorkFlows will ignore free-floating and geographic subdivisions. Check LC's Subject Heading Manual (SHM) or the extended LC web authority file if uncertain about the use of subdivisions. E.g.,
610 20 $aWalt Disney Productions$vJuvenile literature.
651 0 $aSydney (N.S.W.)$xDescription and travel.
650 0 $aParapsychologists$zUnited States.
When subjects are validated using the shield icon, each is individually compared against the list of headings already in EPL's authority database.

Using the Browse, Get from List, and Next commands, subjects can be validated against existing authorities. If in the example above, Single men is selected from the browse list, the entire 650 will be replaced including the text of subfield x. Instead of selecting the text from the browse list, it may be desirable to Skip the text replace function and modify the 650 manually. (Use cut and paste to ensure accuracy.)
Some headings which appear authorized are not and some which appear unauthorized need no further work. See the types in the following examples:
651 0 $aCanada$xHistory$y1773-1783$vPeriodontics.
Unauthorized headings found: 0
Always check that specific historic periods (not centuries) used in subfield y are authorized; the $y should be 1775-1783. Import subject headings with needed subdivisions if available from LC. The $v subdivision should be Periodicals.
650 0 $aSingle men$xHome and haunts.
Unauthorized headings found: 0
Always check specific pattern headings in the SHM before concluding that subdivisions applied are correct; the subject used is erroneous because the free-floating subfield x addition is Homes (not Home) and haunts. See SHM H 1100 (Classes of persons).
650 0 $aAdventure and adventurers$vJuvenile fiction
Unauthorized headings found: 0
Although the main topic in subfield $a is a valid subject heading, when divided by Fiction or Juvenile fiction, the entire subject heading should be changed to Adventure stories. WorkFlows validation does not catch this kind of situation.
650 0 $aPiano and trumpet with jazz ensemble.|?UNAUTHORIZED
Some combinations of musical instruments (where cross-references are not needed) are not established by LC and need not be authorized.
LC is providing more musical headings in order to reduce the number of unvalidated musical ensemble subject headings. The heading used above is incorrect since the order of instruments should be "Trumpet and piano with …"

Do NOT make any changes to LCSH (Library of Congress Subject Headings) records; refer any issues to EPL's SACO co-ordinator.
---
For new cataloguing, headings should be matched against LC or locally created headings.
Import LC authority records into WorkFlows' file of headings using SmartPort.
New headings requiring modification or previously used headings requiring updating should be referred to a librarian. Change to one subject heading may affect other headings plus many bibliographic records.
In the WorkFlows authority file, all places, corporate and personal names are accessed as LCName and only topical headings are indexed as LCSubject; no content has specifically been added to the FloatSub index.
In SmartPort, place names as well as topical headings are identified as Subject in the LC files and personal and corporate names as Author.
Fictitious characters may be found in LC's files as Author (100, 600). Formerly they were accessed as subjects (650) and rare instances may remain.
The quickest way to find an authority from the LC files is to search in the LC website, select the LCCN of the authority wanted and use that number to retrieve a unique authority through SmartPort.
Authorities for Canadian authors and Canadian place names are no longer accessible from their own files; new Canadian content is found in the LC files.
Note: If authorities for Canadian authors are in use at EPL from LAC replace with LC authorities if available. If conflicts are found between forms needed and forms available, refer to a librarian. A local authority will be created to contain the preferred form and the form not used.
Many place names in the past were not established as subject authorities. To avoid conflicts and provide for cross-references, most are now available from LC or local headings modeled on LC. Headings have been made for mountains, rivers, roads, buildings, parks and historic sites as well as cities and larger geographic entities. Geographic entities located within cities cannot be used as geographic subdivisions; LC provides instructions for use of larger geographic entities as geographic subdivisions (see tag 781 in an authority record).
Place name examples:
151 $aFort Edmonton Park (Edmonton, Alta.)
550 $wg$aHistoric sites$zAlberta
550 $wg$aParks$zAlberta
667 This heading is not valid for use as a geographic subdivision.
This heading was made by LC at the request of EPL. Pending LC's creation of such headings, a local authority may be made.
Authority ID on Control panel = XX[Sirsi key #]
040 CaAE$beng$cCaAE
151 $aFort Lennox National Historic Site (Québec)
451 $aFort Lennox National Historic Park (Québec)
550 $wg$aNational Parks and reserves$zQuébec (Province)$5CaAE
550 $wg$aHistoric sites$zQuébec (Province)$5CaAE
667 Broad terms have been made consistent with LCSH practice; 781 added$5CaAE
781 $aQuébec (Province)$zFort Lennox National Historic Site$5CaAE
When a subject heading is not available from LC , it should be referred to a librarian:
for assistance in formulating a concept with existing subject headings or in locating the appropriate authority especially from among similar authorities,
for establishment of local headings for personal and corporate names (and less frequently for place names) and to distinguish between multiple uses of non-unique names and creation of a unique name,
for modification of authorities to conform with local practice,
for submission to LC as a new topical subject heading; new headings are also made for fictitious characters (e.g. recurring characters in mystery novels even though these are now treated as names and not topical headings) and especially for Canadian specific topics,
for liaison with LC to obtain new headings or changes to existing authorities, and
to ensure any locally created authorities are shared with Backstage, the authorities maintenance vendor, in a timely fashion.
---
RDA requires a preferred form be established with variant forms of that name and references to variant names established if a person has more than one identity (if a person has changed his or her name, RDA specifies use of the latest name or form of name as the preferred name -- unless there is reason to believe an earlier name will persist as the better known name or a single pseudonym is used in preference to a real name).
A local authority will be made for a name if it is the preferred form from a work in hand and if transliteration is not the reason for variation from an already established form of name.
New fields have been provided to record associated place(s) especially of birth and death (370), address (371), field of activity (372), associated group (373), occupation (374) and gender (375), family information (376), language (377), fuller form of name (378) -- even a field for other attributes such as non-human species (368). Information is provided if available and considered useful for identification, e.g.,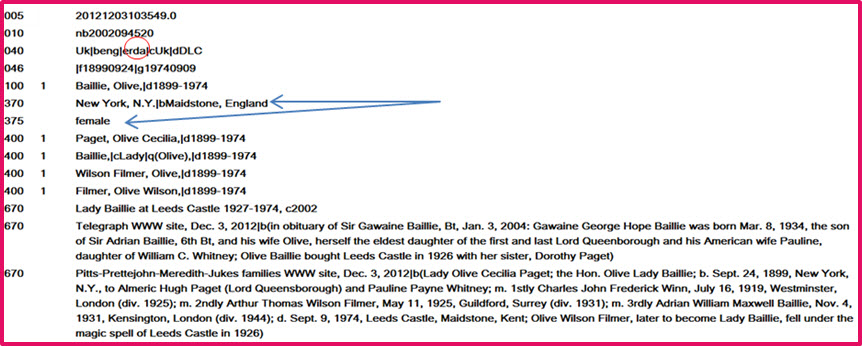 Subject headings are being changed from AACR to RDA form by LC over time.
---
Definition: Genre and form headings describe what a work

is

, not what a work is

about

. The aboutness of a work is described using subject headings. For example,

Horror Movie Freak

is a book

about

horror films so the record would include the appropriate subject heading 650 \0$aHorror films, whereas

Evil Dead

is

a horror film so the record would have the following genre/form heading, e.g.:
655 7 $aHorror films.$2gsafd
Use only the following vocabularies:

​LCGFT: Library of Congress Genre/Form Terms for Library and Archive Materials
GSAFD: Guidelines on Subject Access to Individual Works of Fiction, Drama, Etc.

655 genre/form fields must have a second indicator 7 and a subfield 2 coded with either lcgft or gsafd, e.g.:
655 7 $aAnimated films.$2lcgft
655 7 $Detective and mystery films.$2lcgft
655 7 $aAdventure fiction.$2gsafd
655 7 $aComic books, strips, etc.$2gsafd
Do NOT use or retain 655 genre/form fields coded with a second indicator 0 or 4 or subfields $2local, $2migfg, $2bisacsh, or $2fast

Genre/form headings have not been used historically but as of July 2015 they will be included in records for all format types going forward.

For a complete list of local genre/form headings created for motion picture awards, see

Videorecordings, 655 Local Genre Headings

.
---
i. One Artist
600 Name
Use free-floating subdivisions if appropriate, e.g.,
$vExhibitions
$xCriticism and interpretation
650s for style or movement, theme, location, and ownership if appropriate, e.g.
650 $aExpressionism (Art)$zNorway$vExhibitions. (STYLE)
650 $aKabuki in art$vExhibitions. (THEME)
650 $aPainting$zWashington (D.C.)$vCatalogs. (LOCATION)
610 $aPhillips Collection$vCatalogs. (OWNERSHIP)
650 for biography only if more than 50 % of the book recounts the personal aspects of the artist's life, e.g.
650 $aPainters$zItaly$vBiography.
(SHM H1330) "To works about an individual person that are less than 50 % biographical, assign only the name of the person, subdivided if appropriate. Do not assign headings to designate the class of persons, or the individual's sex, ethnic group, association with a place, organization, etc. Examples of this type are critical works about individual artists …"
ii. Multiple Artists
Assign as appropriate to identify
[Religious] art form, [national/ethnic/or school] $ z [place of origin] use the most specific applicable heading, e.g.
Landscape drawing, British
Watercolor painting, Catalan
Hindu art
Watercolor painting, Expressionist
Use Art for fine arts generally or visual arts collectively; Arts for visual, performing and/or literary arts.
Art form$z [place of origin]$y [with period qualifier and/or century subdivision], e.g.
650 $aPastel drawing$zFrance$y19th century.
Headings for unqualified art forms, e.g. Drawing, and headings qualified by time period, e.g. Painting, Medieval, cannot use free-floating time period subdivisions. A heading for each time period must be established, e.g.
650 $aSculpture, Modern$y17th century.
Note: Modern is a time period qualifier describing the period from the 17th century to the present.
Headings for art and art forms qualified by nationality, region or ethnic group can be subdivided by free-floating century time periods. (Headings for Chinese, Japanese and Korean art forms have their own chronological subdivisions), e.g.
650 $aArt, French$y17th century. (NATIONALITY)
650 $aSculpture, Southeast Asian$y20th century. (REGION)
650 $aArts, Maori$y19th century. (ETHNIC GROUP)
See Pattern Heading in SHM at H 1148
Do not use two subject headings to indicate (1) time period and (2) nationality, region or ethnic group, e.g.
NOT 650 $aSculpture, Modern$y18th century AND 650$a Sculpture, Modern$zFrance
BUT 650 $aSculpture, French$y18th century
Note: Art headings including the word Modern cannot be subdivided geographically and are only used when geographic subdivision is unneeded.
Do subdivide geographically but do not repeat geographic information, e.g.
650 $aArt, French$zFrance$zBurgandy$y12th century
NOT
650 $aArt, French$zFrance NOR 650 $aArt, Medieval$zEurope [Europe is implied by the qualifier Medieval]
Style, movement, etc.$z [place of origin], e.g.
Cubism; Prints, Victorian; Futurism (Art)$z Italy
Do not repeat place of origin if stated or understood to be already in the $a, e.g.
650 $aPainting, French. [should not be subdivided $zFrance]
650 $aArt, Medieval. [should not be subdivided $zEurope]
Theme, e.g.
650 $aFlags in art.
651 $aParis (France)$vIn art.
600 $aJones, Edith$vPortraits.
Do not use Christian art and symbolism, etc., unless the artists involved intended to demonstrate facts of a particular religion.
Art form$z [present location]
Assign for a permanent location of art, e.g.,
650 $aPainting$zAlberta$zEdmonton.
Exhibition catalogs do not receive a heading for location unless the works are permanently located in one place.
Owner
For art works owned by one institution and exhibited in another, assign a heading for the owner-institution not the site of a temporary exhibition (which could be a 710).
---
For headings such as Radio programs, etc.
Divide by place if known, if permitted by the subject authority. Do not subdivide beyond province or state level.
Hypnotic sound recordings
Use "Autogenic training" for hypnosis, trance creation.
Use "Therapeutics, Suggestive" for overt coaching (more limited).
Do not use "Subliminal perception" unless discussing the topic of subliminal messages.
---
When a 600 author-title added entry is being used for a literary work, check author and subject hitlists to see if that title has been used before and use that form of title. If title has not been used before, use title as recorded on the item.
---
Biographies should have two subject headings; one for the name of the person, and one for the subject/category to which the person belongs or is identified with, e.g.,
600 $aGoodall, Jane,$d1934-
650 $aZoologists$z Great Britain$vBiography.
Assign headings that specify the sex or ethnic group of the class of persons if that is a significant aspect of the work. When assigning this heading, assign it in addition to the unqualified heading for the class of person, e.g.,
600 $aRose, Helen.
650 $aCostume designers$zCalifornia$zLos Angeles$vBiography.
650 $aWomen costume designers$zCalifornia$zLos Angeles$vBiography.
However, if the narrowest appropriate subject/category includes sex and/or race, e.g.,
650 $aAfrican American women tap dancers$vBiography.
add a second less precise subject category
650 $aTap dancers$vBiography.
(therefore using 2 subject headings, in addition to the name heading).
For the biography of a musician, use the most specific subject heading which applies, e.g.,
Rock musicians; Tenors; Sopranos; Fiddlers; Banjoists
Do not use headings in the form 651$a [Place]$v Biography unless dealing with collective biographies where no other criterion for inclusion applies except place, e.g.
245 $aWho's who in America.
651 $aUnited States$vBiography.
For biographies and criticisms of literary authors who write under more than one name, make the subject entry for the predominant name. If there is no predominant name, use the person's real name and cutter accordingly, e.g.
Didrickson, Babe
see
Zaharias, Babe Didrickson.
Samuel Clemens – wrote predominantly under Mark Twain.
600 $aTwain, Mark.
---
Use for juvenile material when appropriate.
650 $aBoard books$vSpecimens.
---
For most collections, and not graphic novels, i.e., no continuous storyline, e.g.,
Far side, Ziggy, B.C., Doonesbury, For better or for worse, etc.
650 $a[American] wit and humor, Pictorial
650 $aComic books, strips, etc.$z[United States].
Less frequently, theme access, e.g.,
650 $aVietnamese Conflict, 1961-1975 $vComic books, strips, etc.
When applicable, substitute for Comic books, strips, etc.
650 $aEditorial cartoons (cartoons from newspaper editorial pages)
Do not make 630 (or 650) entries for cartoon strips (or characters) unless the book is discussing the cartooning.
Cartoon collections do not have subject headings referring to themselves by name, i.e., no subject heading for Ziggy (Cartoon character) is needed in a collection of Ziggy cartoons.
---
Do use this heading and appropriate subdivisions for fiction, for feature films, and sound recordings of fiction, e.g.
650 $aChristmas stories, [American, Canadian, etc.]. (Juvenile fiction in print or Adult fiction in print, sound recordings or video)
650 $aChristmas stories$vJuvenile sound recordings (Juvenile fiction in sound recordings)
650 $aChristmas stories$vJuvenile films (Juvenile fiction in video)
BUT
650 $aChristmas$vJuvenile literature. (for nonfiction)
650 $aChristmas$vJuvenile sound recordings. (for nonfiction)
650 $aChristmas$vJuvenile films. (for Fiction and nonfiction)
Do not assign subject headings generally for other types of adult stories, e.g., Love stories, Erotic stories, Paranormal fiction, Picaresque fiction. Headings for thematic types of stories have been created and can be used for juvenile fiction, e.g., Easter stories, Adventure stories, Detective and mystery stories, Hockey stories, Plot-your-own stories, Spy stories.
One heading that is no longer useful is Coming of age which, when subdivided by Fiction or Juvenile fiction, becomes Bildungsromans. Avoid its usage and substitute Teenagers$v Juvenile fiction or School children$v Juvenile fiction.
---
The subdivision $vCatalogs is used for descriptions of items that have been produced, that are available or located at a particular place, i.e., a museum or auction house, often accompanied by prices; used mostly for antiques and collectibles, e.g.
650 $a[Types of objects, merchandise, art, publications, collector's items, etc.]$z[Place]$vCatalogs.
The subdivision $v Prices does not include descriptive information; it is used for industrial price lists (price & part number), e.g.,
650 $a[Types of objects, products, etc. or an industry where no heading exists for the products of that industry]$vPrices$z[Place].
The subdivision $x Collectors and collecting is used for works about collectors and methods of putting a collection together and maintaining [i.e., caring for and preserving] collectible items; used for information on being a collector (e.g., knowing about acid free folders for your comic books or baseball cards), e.g.,
650 $a[Types of objects]$xCollectors and collecting$z[Place].
---
Subject headings for computer programs should be chosen from LCSH or LAC; prefer the most current authority record.
---
Use county names as prescribed in authority records following form in 151 and as directed in field 781;
LAC headings will need to be modified changing 110 values to 151 for validation, e.g.
651 $aLancashire (England)
651 $aScottish Borders (Scotland)
651 $aDurham (England : County)
[there is also a city named Durham]
AND
650 $aCountry life$zEngland$zLancashire.
650 $aCountry life$zScotland$zScottish Borders.
650 $aCountry life$zEngland$zDurham (County)
651 $aColchester (N.S. : County) not Colchester County (N.S.)
650 $aHistoric sites$zNova Scotia$zColchester (County)
BUT
651 $aHants (N.S.) not Hants County (N.S.)
650 $aHistoric sites$zNova Scotia$zHants.
---
Apply this heading for books with

dyslexia friendly features which include sans serif fonts, larger type sizes, letter and line spacing to reduce distraction and color contrast for the benefit of persons with dyslexic vision, as well as works about such books.
650 \0 $aDyslexia-friendly books.
---
600 $aSchmidt, Jones$xFamily
instead of
600 $aSchmidt family
if better identification is provided.
---
Assign topical subject headings to a novel or short story collection in print or sound recording or when dramatized on video if information given is both significant in quantity and factual in accuracy.
Provide subject headings for the following:

Historical events $vFiction; Prefer specific events over the name of a war, e.g.,
650 $aOperation Sea Lion$vFiction
rather than
650 $aWorld War, 1939-1945$vFiction
Historical persons $vFiction, e.g.,
600 $aEliot, George,$d1819-1880$vFiction.
Factual information on a subject $vFiction, e.g.,
650 $aAIDS (Disease)$vFiction.
Fiction set in Edmonton: provide appropriate topical and/or geographical heading(s) to ensure subject searching for Edmonton, e.g.,
651 $aEdmonton (Alta.)$vFiction.
Fictional monsters (must be primary character(s)), e.g.,
650 $aVampires$vFiction.
650 $aZombies$vJuvenile fiction.
650 $aWerewolves$vFiction.
Do NOT use Imaginary wars and battles for fiction; use only for critical works.
Do NOT use subject headings for real or imaginary places that provide the setting for fictitious works.
---
Character statements on dust jacket, half title page, etc. should be recorded in 500 note (see Fiction: Character note) unless already in 245$b, or (after 3 published works) when the recurring character is added as a subject in field 650 (AACR) or field 600 (RDA)

New or revised headings for fictitious characters will be tagged 600 not 650 for individual persons, e.g.
New: 600 10 $aAdler, Irene$c(Fictitious character)$vFiction.
600 00 $aSnow White$vFiction.
Old: 650 0 $aMillhone, Kinsey (Fictitious character)$vFiction.
But 650 is still used for group names, e.g.
650 0 $aIncorrigible Children of Ashton Place (Fictitious characters)$vJuvenile fiction.
New headings tagged 600 won't need a distinguishing detail i.e. $c(Fictitious character) unless you need to distinguish the name of a fictitious character from another authority which is otherwise the same. If necessary, add the author's name $c(Fictitious character from ...), e.g.
600 10 $aAdler, Irene.
600 10 $aAdler, Irene,$d1913-2001.
600 10 $aAdler, Irene$c(Fictitious character)$vFiction.
600 00 $aAlice,$d-1802
600 00 $aAlice$c(Cat)
600 00 $aAlice$c(Singer)
600 00 $aAlice$c(Fictitious character from Carroll)$vJuvenile fiction.
Download a subject heading for the character from LC or, if not in LC, send to a librarian for a new subject heading to be submitted to LC's SACO program and for the new heading to be entered in appropriate titles. A temporary record is created for validation until the heading is available for downloading from LC
Also use subject headings for fictitious characters when the title is about the character, i.e., literary criticism.
EPL continues to make new subject headings for fictitious characters. Existing (or LC created) subject headings for fictitious characters can be used in all formats/genres, e.g.
Videorecording: 600 10 $aHolmes, Sherlock$vDrama.
Print: 600 10 $aArcher, Zak$c(Fictitious character)$vFiction.
650 0 $aArthur (Fictitious character : Brown)$vJuvenile sound recordings. *Old AACR form
---
See SHM H 1095
For magazines and other serials issued with numerical/chronological designation at least once per year, use the subdivision $v Periodicals, e.g.,
650 $aElectronics$vPeriodicals.
Do not add $v Periodicals to directories, guidebooks, encyclopedias, etc., or to infrequently or irregularly published titles.
Do not use:
$vPopular works
$vTranslations into [language]
$vTranslations from [language]
$vAmateurs' manuals.
---
Use subject headings for works in which there is at least one sexual, romantic, or gender minority central character OR sexual orientation or gender expression is important to the theme or plot. Choose headings specific to the work being catalogued, e.g.
650 $aOuting (Sexual orientation)$vFiction.
650 $aLesbian college students$vFiction.
650 $aGay fathers$vFiction.
The following list of headings are in current use for adult fiction and, while not prescriptive, are suggestions for continued application. It is not recommended that these headings be geographically subdivided unless the place is important, e.g. Tales of the city by Armistead Maupin (Gay men -- California -- San Francisco -- Fiction) or Beijing comrades by Bei Tong (Gay men -- China -- Fiction (Chinese politics are important to the novel)) or Murder in the Rue Chartres : a Chanse MacLeod mystery by Greg Herren (Gay men -- Louisiana -- New Orleans -- Fiction (MacLeod is a fictitious character based in New Orleans and is also a subject access point)). Avoid Gays -- United States -- Fiction for single works of fiction.
| | |
| --- | --- |
| Asexual people | Gender transition |
| AIDS (Disease) -- Patients | Homophobia |
| Closeted gays | Intersex people |
| Coming out (Sexual orientation) | Lesbian authors |
| Gay actors | Lesbian businesswomen |
| Gay authors | Lesbian college students |
| Gay bars | Lesbian couples |
| Gay college students | Lesbian high school students |
| Gay couples | Lesbian librarians |
| Gay detectives | Lesbian musicians |
| Gay high school students | Lesbian private investigators |
| Gay men | Lesbian teachers |
| Gay men -- Crimes against | Lesbian teenagers |
| Gay men -- Family relationships | Lesbians |
| Gay men -- Relations with heterosexual women | Middle-aged gay men |
| Gay men -- Relations with lesbians | Non-monogamous relationships |
| Gay military personnel | Transgender people |
| Gay police officers | Transphobia |
| Gay teenagers | Young gay men |
| Gay theatrical producers and directors | |
| Gay youth | |
| Gays | |
| Gays -- Violence against | |
| Gender-nonconforming people | |
| Gender nonconformity | |
Also valid, but not currently in use in the adult fiction collection are many phrases beginning:
Bisexual ...
Gay ...
Lesbian ...
Transgender ...
LC does not use Homosexuals or Queers (Persons)
---
The following websites are useful for finding geographical names:
---
Order of Terms
Geographic subdivisions are used "indirectly"; passing from larger to smaller more precise headings in repeated $z subfields. This applies to most geographic subdivisions. The exceptions are Vatican City, Jerusalem and Washington (D.C.) Other places should appear after a first level subdivision, e.g.,
$zEngland$zLondon
but NOT
$zGreat Britain$zLondon.
$zNewfoundland and Labrador$zLabrador City for Labrador City (N.L.)
Degree of specificity
Subdivide directly by names of countries, regions larger than countries, e.g. continents, and by provinces of Canada, states of the U.S. or constituent countries of Great Britain.
Generally subdivide indirectly for smaller areas, e.g. cities, lakes, islands, if those smaller areas are entirely within one of the larger bodies.
However, if the area is smaller than a city, e.g. a subdivision, do not subdivide smaller than a city, e.g.
$zAlberta$zEdmonton (for Old Strathcona or Fort Edmonton Park)
$zCalifornia$zLos Angeles (for Hollywood)
If the smaller area is not entirely within one of the larger bodies, e.g. Lloydminster on the border of two provinces, subdivide directly $zLloydminster (Sask. and Alta.) with the larger bodies arranged to reflect where most of the smaller body is located or, if in equal parts, in alphabetical order.
If the geographic subdivision is located in more than 2 areas which could be a first subdivision, i.e. a state/province/constituent country or in one area which could not be a first subdivision, do not subdivide indirectly; therefore Rocky Mountains and Pacific Coast (U.S.) are not used indirectly.
Do not subdivide through more than one larger body, therefore, NOT $zCanada$zAlberta$zEdmonton; do give the names of places large and small as they would appear in authorities for each place; therefore use $zQuébec (Province)$zMontréal and $zAustralia$zMelbourne (Vic.).
Placement
Usual pattern is Topic -- Place -- Format. e.g.
650 $aSalish people$z[Place].
650 $aEskimos$z[Place]$v[Biography, Fiction, Folklore, Pictorial works].
Note the placement of geographical subdivisions when used with some topical subdivisions (see H1103 Free-floating Subdivisions: Ethnic groups), e.g.
650 $aNavajo people$z[Place]$x[Claims, Ethnic identity, Languages, Government relations, Music, Social conditions].
There are exceptions to this rule when a topical subdivision cannot be subdivided geographically and the geographic subdivision must follow the main topic, e.g.
650 $aIndigenous peoples$x[Abuse of, Agriculture, Alcohol use, Boats, Civil rights, Clothing, Colonization, Commerce, Counseling of, Crimes against, Cultural assimilation, Diseases, Drug use, etc.]$z[Place].
Whether or not to subdivide
Many but not all subject headings can be subdivided geographically. If permitted, the authority for the subject in the ILS contains the letter "i" in its fixed field D/I Geo position. If that field contains a fill character | or a blank, it may not be divided by a geographic subdivision.
If LCSH permits dividing by place, use a geographic subdivision in all cases when a subdivision is known. However, if the authority record indicates that the heading is identified with a particular place, do not subdivide by that particular place, e.g.
150 $aZydeco music
550 $aPopular music$zLouisiana.
Do not use
650 $aZydeco music$zLouisiana
or
650 $aPopular music$zLouisiana
Use
650 $aZydeco music.
Geographical regions
A subject heading for a geographic region can be used without an established authority for an area based on a geographic feature such as a park, mountain, or other feature with geographic extent (not a building), e.g.
North Saskatchewan River (Sask. and Alta.) Region
Banff National Park (Alta.) Region
Many regions with unique names are established, i.e., Caribbean Area, Midlands (England), Four Corners Region, Lake District (England), Arctic regions.
Cities can also be the basis for subject headings which do not have established regions, e.g.
Edmonton (Alta.) the city itself
Edmonton Metropolitan Area (Alta.) a well defined area consisting of the city and densely populated territory surrounding the city and socially and economically integrated with the city
Edmonton Suburban Area (Alta.) neighbouring residential areas lying outside the city but not including the city itself
Edmonton Region (Alta.) the city and surrounding territory which is indefinite in size and may vary according to each bibliographic work being catalogued.
Collective geographic subject headings
650 $aCanadian provinces
650 $aU.S. states
These headings were established for discussing provinces or states individually or comparatively.
As subdivisions of topical subject headings, use $zCanada$zProvinces and $zUnited States$zStates not [Place] – topical subdivision. Since these headings are topical headings (650s), exceptional uses of these headings with topical subdivisions have been established and are not free-floating as topical subdivisions are with place names (651s), e.g.
650 $aU.S. states$xSocial policy.
650 $aCanadian provinces$xAppropriations and expenditures.
650 $aCanadian provinces$xEconomic conditions.
---
Works on a particular tribe/band are assigned one subject heading for the particular tribe as well as one for Indigenous peoples, e.g.
650 $aDakota people$zFlorida$zMiami.
650 $aIndigenous peoples$zFlorida$zMiami.
Effective Dec. 1, 2020, EPL discontinued use of the LCSH First contact of aboriginal peoples with Westerners. In its place, substitute Indigenous peoples -- [Alberta, Canada, United States, etc.]. This local policy is modelled on LC's Indians -- First contact with Europeans (sh 94001388).
Rule 1
Generally, do not use both a narrow term and a broad term to describe the same work; however, since our OPAC does not include see and see also references, provide broad terms including the word "Indigenous" as well as specific tribal/band names, e.g.
650 $aCree people$xMusic.
650 $aIndigenous peoples$zSaskatchewan$xMusic.
650 $aIndigenous women activists$vBiography.
650 $aCree women$vBiography.
Rule 2
Do not subdivide tribal names geographically unless a specific community or region is the subject of the work or a state or province is not usually associated with a particular tribe/band. (Usual places are indicated in local or LC authority records in 550 fields, i.e. Indigenous peoples$z... or Indians of North America$z... which still appear in WorkFlows Authority file records even though this information will not appear to our customers.)
650 $aChipewyan people$zAlberta$zAthabasca Tar Sands Region.
650 $aHaida people$zNew Brunswick.
650 $aCayuga people$zQuébec (Province)
650 $aOnondaga people$zNew York (State)$zAlbany.
Haidas and Cayugas are not usually associated with New Brunswick and the province of Québec.
Omit geographic subdivision if redundant, e.g.
650 $aCayuga people$xAlcohol use.
NOT
650 $aCayuga people$xAlcohol use$zNew York (State)
Cayugas are usually associated with the state of New York.
As of June 28, 2021, EPL no longer uses the LCSH Off-reservation boarding schools and instead uses the term Residential schools given its prominence in Canadian literature and discourse. The Residential schools heading is coded with a second indicator of 7 and includes the subfield $2CaAE to identify it as a local heading for authority processing.
Rule 3
Avoid the term(s) Indian or Indians in topical subject headings, e.g.
650 $aCandian literature$xIndigenous authors.
600 $aLincoln, Abraham,$d1809-1865$xRelations with Dakota people.
650 $aCaptives of indigenous peoples. (NOT Indian captives)
651 $aUnited States$xHistory$yWar of 1812$xParticipation, Indigenous.
650 $aIndigenous reserves$zAlberta.
650 $aIndigenous reservations$zWyoming.
Some uses of the term(s) Indian and Indians are unavoidable, e.g.
650 $aEast Indians (in or from India)
650 $aKuper Island Indian Residential School.
650 $aIndian hobbyists.
650 $aIndian rhinoceros.
650 $aIndian Removal, 1813-1903.
650 $aIndian agents.
650 $aPolice murders$zSouth Dakota$zPine Ridge Indian Reservation.
650 $aOjibwa people$zOntario$zNeyaashiinigmiing Indian Reserve No. 27
Rule 4
Complex topical concepts can be expressed in a single term (but multiple terms offer even more detail), e.g.
650 $aIndigenous peoples as slaves.
650 $aIndigenous peoples$xMissions$zCanada, Western$xHistory$y19th century.
650 $aIndigenous peoples$xMixed descent$zUnited States$vBiography.
650 $aIndigenous business enterprises.
AND
650 $aWomen-owned business enterprises.
650 $aIndigenous code talkers.
AND
650 $aDakota people.
650 $aIndigenous foster children.
AND
650 $aIndigenous teenagers.
AND
650 $aMuslim converts.
650 $aSports team mascots$xSocial aspects.
AND
650 $aIndigenous peoples$zUnited States$xSocial conditions$y20th century
BUT
650 $aIndigenous athletes.
AND
650 $aRunners (Sports).
650 $aHockey players.
650 $aLacrosse players.
Rule 5
Treaties, [DATE] and Wars, [DATE] are not free-floating additions to subjects and must be established for each specific incident and may not be warranted in the form initially conceived, e.g.
650 $aCheyenne people$xWars, 1876-1877.
Established as
650 $aBlack Hills War, 1876-1877.
650 $aCree people$xTreaties, 1876.
Established as
630 $aTreaty No. 6$d(1876 August 23).
---
Juvenile fiction books are assigned subject headings more frequently than adult fiction books.
Use the subject heading subdivision "Juvenile fiction" rather than "Fiction". Update subject headings in existing titles if the title is being reviewed for some other reason.
Subject headings will be added to juvenile fiction title records for the primary character, and for topics (settings, animals, themes, relationships).
Most E titles will be assigned two or more subject headings: one for the primary character and one or more for themes/topics, etc., represented in the text, e.g.
650 $aPaddington Bear (Fictitious character)$vJuvenile fiction.
650 $aAunts$vJuvenile fiction.
650 $aCamping$vJuvenile fiction.
J and Teen titles should have one or more subject headings: a subject heading for the primary character is not necessary if the character is a non-distinctive person (i.e., does not belong to a specific class of persons).
Use:
650 $aHandicapped children$vJuvenile fiction.
but not
650 $aBoys$vJuvenile fiction.
For fiction set in Edmonton: provide appropriate topical and/or geographical heading(s) to ensure subject searching for Edmonton, e.g.
651 $aEdmonton (Alta.)$vJuvenile fiction.
---
Use the subject subdivision $v Juvenile literature to indicate intellectual level for non-fiction, e.g.
650 $aBirds$vJuvenile literature.
The subdivision $vJuvenile literature is not to be applied to headings for "belles lettres*" – exceptions of the past Riddles and Limericks, which were regularly divided by $vJuvenile literature, have been replaced with Riddles, Juvenile and Limericks, Juvenile. Do not use or cause such headings to be re-established as authorities.
Tales, Fairy tales (which has x-references for both $vJuvenile fiction and $vJuvenile literature), Folk literature (for 3 or more folk genres and headings for specific folk and literary genres such as Legends, Fables, and Nursery rhymes) plus any topic already subdivided by $vFolklore are not to be subdivided by $vJuvenile literature. E.g.
Astronomy$vJuvenile literature but not Astronomy$vFolklore$vJuvenile literature
Fairy tales
Mermaids (do not add $vFolklore to topics which are inherently folkloric) NOTE: Use of headings like Mermaids with subdivisions $vJuvenile literature, Juvenile fiction, Juvenile films, Songs and music, etc. are not prohibited.
Frogs$v Juvenile fiction or Frogs$vFolklore but not Frogs$vFolklore$vJuvenile literature.
Heroes$zIreland$vLegends but not Heroes$zIreland$vLegends$vJuvenile literature
Cree people$vFolklore but not Cree people$vFolklore$vJuvenile literature
*Belles lettres are those kinds of literature not used principally for the transmission of information – fiction, poetry, and drama, but especially the smaller subsets which are speeches and letters, essays, satirical and humorous writings and light writing such as riddles and limericks.
Also use the subdivision $vJuvenile literature for titles about juvenile literature, e.g.
650 $aPhysically handicapped$vJuvenile literature$vBibliography.
650 $aAfrican Americans$vJuvenile literature$vBio-bibliography.
Books on or about juvenile literature in general are assigned the heading:
650 $aChildren's literature.
Do not use more than one juvenile form subdivision in a heading.
For literary works, use $vJuvenile drama,$vJuvenile fiction, or $vJuvenile poetry.
---
Use the form subdivisions Juvenile films and Juvenile sound recordings as the final element in all subject headings assigned to topical juvenile materials unless special form headings or subdivisions have been established, e.g.
650 $aOperas$xJuvenile.
650 $aTeenagers$vJuvenile humor.
650 $aAnimals$vEncyclopedias, Juvenile.
650 $aGrandparents$vJuvenile films.
Do not use$v Juvenile drama, Juvenile fiction or Juvenile poetry for sound recordings or videorecordings.
Do not double up subdivisions to emphasize juvenile content.
650 $aViolin$x Methods$xJuvenile [do not add further subdivision$vJuvenile films].
650 $aChildren's poetry, American [do not add further subdivision$vJuvenile sound recordings].
For juvenile videorecordings use [Topic] $vJuvenile films. Topics include fictitious characters, tales (for collected works only), folklore, etc.
For juvenile sound recordings, use [Topic] $vJuvenile sound recordings.
Apply the subdivision $vJuvenile sound recordings to the subject of the recordings only, i.e. to the name of a real person, a fictitious character, a place, an event or a topical heading about which the recording is concerned, e.g.
Birthday parties
Snowmen
First day of school
Bieber, Justin, 1994- (about Bieber not performed by Bieber)
Dora the Explorer
Disneyland (Calif.)
Tales (with subdivision $vJuvenile sound recordings is established)
The subdivision $vJuvenile sound recordings can be applied for fictional or factual treatment. It need not represent songs but also could be applied for instrumental music or narration. Therefore headings of the sort $aFriendship$vSongs and music$vJuvenile sound recordings could be warranted.
If there is no such topic, then the subject Children's songs* can be used with appropriate subdivision (but not $vJuvenile sound recordings), e.g.
650 $aChildren's songs, English$zAustralia.
*Children's songs$vJuvenile sound recordings$xHistory and criticism could exist. It would be hard however to imagine an appropriate use of Children's songs with only the subdivision $vJuvenile sound recordings i.e. a children's recording of songs about songs for children.
---
Do not use the subject heading Large type books.
Use this subject only for discussion of large type books e.g.
650 $aLarge type books$vBibliography.
---
Use as subject access when a legendary character appears in the story, or for literary criticism; use heading as established in LCSH, e.g.
650 $aRobin Hood (Legendary character)
650 $aBunyan, Paul (Legendary character)
650 $aTom Thumb (Tale)
650 $aAladdin (Legendary character)
---
Use the subject heading Readers for new literates for material about such books.
Use the subject heading New literates' writings for anthologies by groups of newly literate authors.
---
For collections by single authors in any format (print or AV), use specific form or genre subject headings, e.g.
650 $aDetective and mystery stories.
650 $aGhost stories.
Do not use non-specific form headings, e.g.
650 $aAmerican fiction.
Do not use form or genre subject headings for a single work (e.g. a novel, a poem, a play) except
650 $aAmerican [etc.] wit and humor.
650 $aNovels in verse.
For collections in any literary form, by multiple authors, use specific and non-specific form and genre subject headings, e.g.
650 $aShort stories, Canadian.
650 $aEnglish poetry$y20th century.
Use topical subject headings when suggested by the work or works, according to guidelines. See SHM for further information.
For more information on subject headings for Graphic novels/short stories, see Graphic Novels.
---
Add one or both of the following genre/form headings to any print or audiobook, whether fiction or nonfiction, adult or juvenile, by a local author as appropriate.
655 7 $aAlberta author.$2CaAE
655 7 $aEdmonton author.$2CaAE
E.g. The Garneau block / by Todd Babiak
655 7 $aAlberta author.$2CaAE
655 7 $aEdmonton author.$2CaAE
E.g. The war on science : muzzled scientists and wilful blindness in Stephen Harper's Canada / Chris Turner.
655 7 $aAlberta author.$2CaAE
Edmonton authors are defined as those being within the geographic area known as the Edmonton Capital Region (City of Edmonton plus the Counties of Leduc, Parkland, Strathcona and Sturgeon. For a complete listing of municipalities included see Wikipedia: Edmonton Capital Region).
Alberta authors are defined as those being within the geographic area known as the province of Alberta. (https://en.wikipedia.org/wiki/Alberta)
Use for those creators having a strong association with the defined area, e.g. born in, raised in, resident in, teaching in, etc.; having come to locally perform, publish, or record is not sufficient.
Records for all works in the Capital City Press Collection should receive both a 655 Edmonton author and a 655 Alberta author heading.
---
"Study and teaching" vs. "Instruction and study"
Both subdivisions can refer to education programs [in a specific place], theoretical methods of teaching a subject, theoretical techniques for learning a subject and for lessons and practical step-by-step methods to study or teach a subject.
Music$x Instruction and study is comparable to [Non-musical topic]$x Study and teaching.
245 $aStepping stones to the piano for the young beginner.
(includes teaching pieces and instruction)
650 $aPiano$xInstruction and study.
Music education which is presented in a general work or textbook should not have subject subdivisions.
245 $aTwentieth century composition.
(description and criticism)
650 $aComposition (Music)
Do not add $xInstruction and study.
Additional music instruction subject headings may be combined or exchanged for the more general subdivision Instruction and study
245 $aTeach yourself bluegrass banjo flat-picking.
650 $aBanjo$ Fingering [a specific skill]
650 $aBanjo$xMethods$xSelf-instruction [only use if do-it-yourself is emphasized]
650 $aBanjo$xMethods (Bluegrass)
650 $aBluegrass music$xInstruction and study.
245 $aJazz for guitar.
650 $aGuitar music (Jazz)$xInstruction and study.
245 $aExercises for beginning piano [sight reading, fingering, pedaling]
650 $aPiano$vStudies and exercises [more specific than instruction and study]
The subdivision $xMethods should be used when discussing schools of learning (i.e. patterns of thought and programs arising from those thought patterns) or self-instruction or group instruction.
245 $aSuzuki violin.
650 $aViolin$xMethods$xJuvenile.
245 $aThe ABC of piano playing :$bthe Boris Berlin method.
650 $aPiano$xMethods.
---
Arranged music
Add "Arranged" when the medium for performance has been changed significantly from the original; the subject indicates what instrument is now performing, e.g.
Orchestral music arranged for piano
650 $aPiano music, Arranged.
It can only be added to subject headings which indicate medium or form for instrumental music. (See SHM H1160 for more details.)
See also Classical Music, 6XX.
Headings which include names of instruments
Music for one instrument alone is indicated by the name of that instrument (as specified in LCSH) and the word music, e.g. Flute music. These headings are all established by LCSH.
Music for two like instruments use the name of the instrument qualified with the name & number of instruments given in parentheses, e.g. Flute music (Flutes (2)). These headings can be constructed as needed and used without validation.
Music for two unlike instruments is indicated by a heading which uses both instrument names connected by the word and, e.g. Horn and piano music. These headings have to be established by LCSH.
Medium headings for three or more instruments are not all established by LCSH and can be constructed as needed and used without validation. Within these headings, instruments are named in the following order:
| | | | | | | |
| --- | --- | --- | --- | --- | --- | --- |
| 1. Keyboard instruments | 2.Wind instruments | 3. Plectral/Plucked instruments | 4. Percussion and other instruments | 5. Bowed instruments | 6. Unspecified instruments | 7. Continuo |
| Accordion | Bagpipe | Balalaika | Carillon | Viol | | |
| Bandoneon | Basset horn | Bandora (Pandora) | Chime | Violin | | |
| Celesta | Bassoon | Cimbalon | Computer | Viola | | |
| Concertina | Clarinet | Cittern | Cymbal | Viola da gamba | | |
| Electric Keyboard | Didjeridu | Dombra | Drum | Cello | | |
| Harmonium | English horn | Dulcimer | Drum set | Double bass | | |
| Harpsichord | Euphonium | Electric guitar | Electronics | | | |
| Melodeon | Flute | Er hu | Glockenspiel | | | |
| Organ | Glass harmonica | Guitar | Keyboard (etc.) controller | | | |
| Piano | Horn | Harp | Maraca | | | |
| Reed organ | Nay | Hurdy-gurdy | Marimba | | | |
| | Oboe | Koto | Ondes Martenot | | | |
| | Oboe d'amore | Lute | *Percussion | | | |
| | Piccolo | Mandolin | Synthesizer | | | |
| | Recorder | Oud | Tabla | | | |
| | Saxophone | Pi pa | Tambura | | | |
| | Shakuhachi | Santur (Santour) | Vibraphone | | | |
| | Shawm | Sitar | Xylophone | | | |
| | Trombone | Theorbo | Zarb | | | |
| | Trumpet | Zither | | | | |
| | Tuba | | | | | |
*Use the heading Percussion for more than one percussion instrument and/or percussionists.
Within each category (1-7) instruments are named in alphabetical order, except bowed string instruments which are named in score order (violin, viola, cello, double bass).
Trios (Bassoon, horn, guitar)
Trios (Piano, accordion, violin)
Quartets (Clarinet, flute, drum, timpani)
Quartets (Reed-organ, accordion, bandonion, concertina)
Sextets (Organ, guitar, harp, violin, viola, cello)
Geographic subdivision
Rarely use the geographic subdivisions United States, Canada and Great Britain for popular music subject headings, e.g. Rock music, Jazz, etc. Refer to SHM H1916.5.
Musical instruments
Be aware that the instrument "bass" in sound recordings can refer to double bass as well as to electric bass, i.e. Bass guitar. Use appropriate subject heading:
650 $aDouble bass …
or
650 $aBass guitar …
"Fiddle tunes" can be used for solo fiddle (violin) music or fiddle with accompaniment (piano, accordion, etc.).
Period subdivisions
Do NOT use period subdivisions for popular music subject headings unless a specific time period is stated in the title, e.g.
245 $aThe best of '60s rock|h[sound recording]
650 $aRock music|y1961-1970
Score subdivisions
Includes Piano scores, Vocal scores with piano, and Solo with piano (see the complete list in SHM H1160).
Do not copy old records for new work without reviewing the appropriateness of subdivisions. These subdivisions can be used for specific instrumental headings (but not computer or electronic music or music originally for one instrument) and for these exceptions: Vocal music, Sacred vocal music, Chamber music, and Instrumental music.
Use for individual or collective musical works when the MEDIUM is spelled out such as Violin music$v Piano scores or for specific FORMS such as Concertos (Violin)$v Solo with piano.
For music not stating or implying the medium of performance, e.g. Motion picture music, or always published in the same form, e.g. Hymns, do not use "score subdivisions".
Songs
The subject heading Songs, [language] is used only for solo voice. Use Choruses, Vocal music, Vocal ensembles, etc. for plural voices.
---
Use the subject heading for lyrics or librettos:
650 $aChildren's songs$vTexts
For titles consisting of the words of one or more songs.
---
Use "$xSound effects" only in limited cases for sound effects used in certain venues or recorded from types of venues, i.e., Radio, Theater, etc., e.g.
650 $aRadio broadcasting$xSound effects.
Recordings of sound effects often need two subject headings, e.g.
650 $aSounds
and
650 $a[Topic, e.g. Thunder]
LC has established specific headings such as "Nature sounds", "Waterfront sounds", "Spaceflight sounds", etc. and has permitted "|x Sounds" as a subdivision under individual wars.
---
Use subject headings to enhance the information in the classification, even if it seems to duplicate information in the classification, e.g.
650 $aJazz$z Spain (for class= JAZZ)
650 $aChildren's songs, French (for class=J SONGS)
650 $aChamber music (for class=CLA CHAMB)
---
Free-floating under names of persons, e.g.
600 $aSimon, Paul,$d1941-$xCareer in folk-rock music.
650 $aFolk-rock music.
---
The subject heading subdivision |x Law and legislation is not free-floating; however, it can be used in more situations than where there is an authority record for the entire subject heading. See the Free-Floating Subdivisions Index, to see the list of categories (Animals, Chemicals, Diseases, Types of schools, Industries, Materials, Plants & crops, Land vehicles and Wars) under which the subdivision may be used. Formerly the subdivision could not be used under headings that are inherently legal; the subdivision $xLaw and legislation may now be used under headings for crimes and categories of crimes.
LC is revising existing headings and creating new headings in the form [crime or category of crimes]$xLaw and legislation (e.g., Murder$xLaw and legislation; Computer crimes$xLaw and legislation). The subdivision $xLaw and legislation is not free-floating in this context, so each new use must be established editorially (i.e. proposed).
---
This subject heading subdivision is free-floating under kinds of objects, including machinery, vehicles, structures, etc. When used for automobiles, do not add to works classed in 629.2 (automotive engineering) or 629.23 (automobile construction) but do use for works classed in 629.287 or in works about specific parts of vehicles e.g. 629.260288 (body repair), 629.250288 (engine tune-ups).
---
This subdivision is used for works which describe careers and/or offer advice on how to prepare for, enter, and succeed in specific careers.
Assign as a free-floating subdivision under professions, fields of knowledge, types of industries, trades, etc. for works on careers in these fields, e.g.
650 $aDentistry$xVocational guidance [NOT: Dentists$xVocational guidance]
650 $aAuthorship$xVocational guidance [NOT Authors$xVocational guidance]
650 $aSelling$xVocational guidance [NOT Sales personnel$xVocational guidance]
Assign as a free-floating subdivision under classes of persons or occupational groups if the corresponding field of activity does not exist and cannot be established.
Note: Models (Persons)$xVocational guidance and Police$xVocational guidance are established authorities.
Assign as a free-floating subdivision under names of individual corporate bodies and military bodies, e.g.
610 $aCanadian Coast Guard$xVocational guidance.
For works which are about, or consisting of, summaries of the essential activities involved in the performance of jobs, use the subdivision $v Job descriptions after the names of corporate bodies or occupational groups, e.g.
650 $aSki resorts$xEmployees$vJob descriptions.
It would be uncommon to combine both these subdivisions for the same work, e.g. use
650 $aWelding$x Vocational guidance.
OR
650 $aWelders (Persons)$vJob descriptions.
At times we may want to combine the heading for preparation for an occupation with the name of the occupation (without subdivision) to provide better access, e.g.
650 $aNursing$xVocational guidance.
AND
650 $aNurses.
---
Use for juvenile material when appropriate. Check LCSH for the most specific subject heading to describe such novelty books (e.g. Flip books, Pop-up books).
Note: do not use subdivision$vJuvenile literature with this heading.
---
650 $aUrban folklore$z[Place] (if applicable)
and
650 $aLegends$z[Place] (if applicable)
---
Animated films
Divide by place if applicable.
650 $aAnimated films would not normally qualify as a topical heading on juvenile materials and so would not be subdivided further by $vJuvenile films. On most juvenile films, Animated films is a subject heading used not as a topic but a format descriptor.
Children's films
Subject heading "Children's films" has been discontinued by EPL for all videorecordings.
Children's television programs is only to be used for DVDs or books about a TV show. For DVDs, use topical headings subdivided by$vJuvenile films.
Christmas films
650 $aChristmas plays [for adult Christmas videodisc dramas]
650 $aChristmas$vJuvenile films [for juvenile Christmas videodiscs]
Do not use 650$aChristmas stories for videodiscs.
Silent films
Here are entered films made in the early days of the motion picture industry before the advent of talking films.
Film may include a music track.
Use subject heading (if applicable):
650 $aSilent films.
---
For J or Teen electronic games use
650 $aVideo games|vJuvenile software
Add additional headings for subjects
650 $a[Topic]|vJuvenile software, e.g.
650 $aTarzan (Fictitious character)|vJuvenile software.
---
Revised: Dec. 29, 2022