---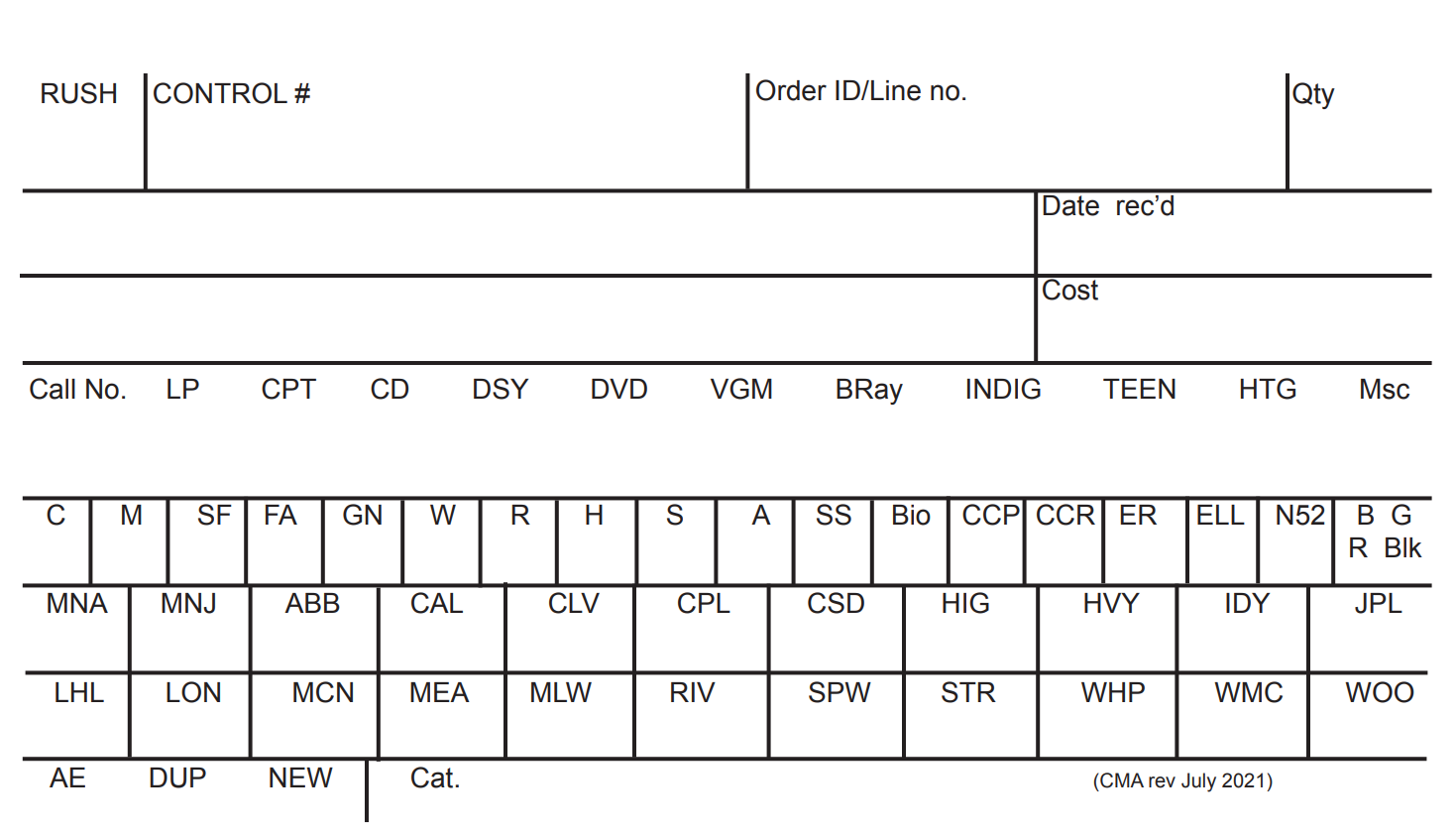 The symbols below are circled on the In process (IP) form to identify items which require special spine labels.
They apply to fiction written in English and published in regular print and large print formats.
The Canadian (maple leaf) label also applies to fiction in English and French. Do not use for Easy English items.
M = Mysteries
W = Westerns
SF = Science Fiction
FA = Fantasy
H = Historical Fiction
R = Romance
SP = Sports
A = Animals
C = Canadian
CPT = Concept
SS = Short Stories
GNC = Graphic Novel Collection
AP = Indigenous Collection
The following symbols on the IP form are circled to identify nonfiction and AV items which require special labels.
PPR = Public Performance Rights
AP = Indigenous Collection
LIT = Literacy/Easy Reading Collection
B = Blue Literacy Label
G = Green Literacy Label
R = Red Literacy Label
B = Black Literacy Label
GOV = Government Publication
PPR = Public Performance Rights
---
Comics are delivered monthly (usually the last week of the month).
The enclosed packing list is included in box #1; make a second copy (one for the Collection librarian responsible for ordering Juvenile and Teen material and one for Acquisitions).
The comics are packaged by title, in bundles of 19 copies. All comics are barcoded and have an RFID tag affixed by the vendor.
Unpack onto a truck with each title in a separate pile and fill out a Truck slip noting the total number of comics from the packing slip.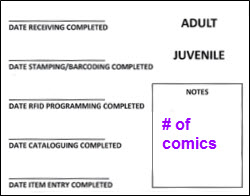 Maintaining the list of comic titles is very important to ensure that the classification label applied is consistent from month-to-month. See example S:\cat\Comics\Comic Books (May 2014).xls
Titles are listed in alphabetical order with notes as to the rationale for classification. The packing slip can be a good source of exact title information.
Titles with a different "series" name are treated as a new title, e.g. Doctor Who: Autopia; Doctor Who: Black death white life; Doctor Who: Room with a deja view.
Initial processing:
The appropriate label (children's, teen, or adult) can be determined from the list of existing titles and ratings on the comics (in the UPC box located on the cover).
Marvel comics
Rated ALL AGES = Children's comics

Rated A = Teen comics

Rated T+ = Teen comics

Rated PARENTAL ADVISORY = Teen comics

Rated MAX: EXPLICIT CONTENT = Adult comics*
DC comics
DCKIDS = Children's comics
BOOM! KIDS
BOOM! KIDS = Children's comics
Archie comics
"archiecomics.com" (usually with a big red "A" above) = Children's comics
Bongo comics
"BONGO COMICS GROUP" = Teen comics
*There are VERY few Adult comics.
Consult with the Collection librarian responsible for ordering Juvenile and Teen material as needed to determine audience level.
No labels should cover the comic issue number.
Check the rating mapping above first for consistent labelling. Update the list of titles when a new title is added.
RFID tags are affixed inside the back cover and activated during item entry.
Item entry:
Comics are entered under a generic "COMICBOOK" title record. They are shadowed at the call number level.

Each title record is to have approximately 1,000 items on it. Additional title records are created as needed with the item limit is reached.

To create a new generic comic title record in Symphony:

Click on "Duplicate Title" wizard

Search for an old generic comic record, e.g. a1229404, a1253970

Click on "Save"

Change date cataloged to today date under the control tab

Copy the title control number and change the 035 in the Bibliographic tab

Change properties in the Call Number/Item tab

Shadow the call number

Record the title control # for new records on the title list

Do not check out the comics to a Collections card.
Distribution:
Processed comics are bundled for distribution to Milner and the branches upon completion of item entry.
Children's comics
19 copies of a title - one copy goes to each location with the extras going to LON, MLW, MNJ or WMC
Teen comics
19 copies of a title - one copy goes to each location with the extras going to LON, MLW, MNA or WMC
Monthly stats are kept on the number of comics processed (WL/Comics/NOF spreadsheet column).
---
Outgoing order procedures:
Flushbinds/Checkbind: Usually annual reports. The front and back covers are bare millboard.
Tie bundles securely with elastic bands around all sides (vertical and horizontal).
If a sample copy is being sent, tape a slip on the book with 'SAMPLE', the colour # and the colour.
Count total # of flushbinds and record total. Keep this information on file until the order is returned.
Disable all RFIDs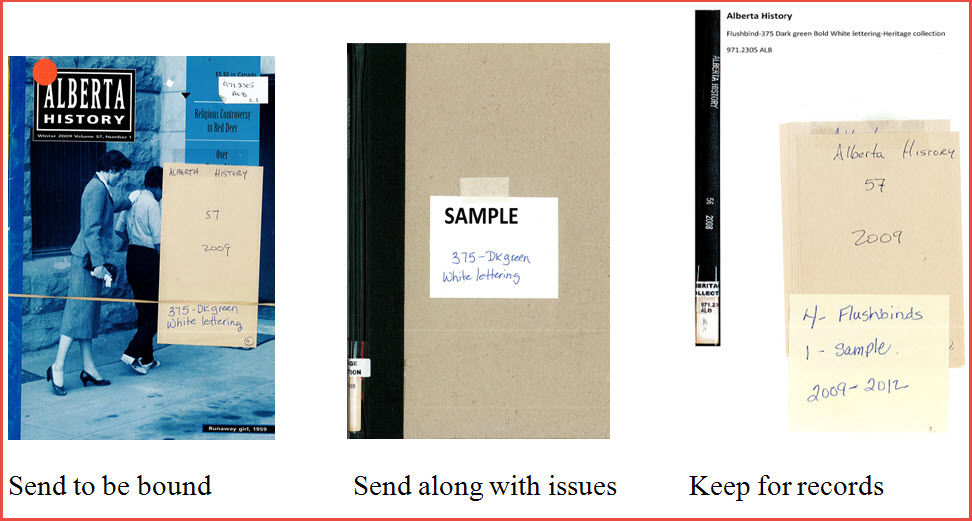 Rebinds: Hardcover books with or without dust jackets. The edges will be ⅛ inch to ¼ inch larger than the pages, to give protection to the book as it sits on the shelf. A rebind is a book that is given a new cover with new foil stamping.
Service point staff check books for repairs that can be done in the branch, such as loose pages, torn pages, dirty pages. If more extensive repair is required, the item is sent to CMA. CMA staff review items and if the book cannot be repaired in-house, the Collections Librarians examine the items and determine whether rebinding is justified. If justified, the item is sent to EPL's commercial bindery.
All books sent to commercial bindery must have enough margin to be re-bound, at least ¼ inch. See also "Item Repair and Maintenance Guidelines" document on StaffWeb for more information.
Collections librarians will evaluate the material and decide whether to: discard, re-order, or send to commercial bindery.
For items being sent to the commercial bindery:
Use pencil to underline the title on the title page then mark a T to indicate title.
Use pencil to underline author's last name, (if no author then write "no author"). Mark an A underneath the underline.
If the book has a pocket or bookplate write 'Please leave on' to notify the commercial binder that you would like to keep this.
If there are any booklets attach a sticky note that would say please attach.
Check the book out on the CMA-ATLASBIND#1 card.
Remove dust jackets and relaminate if needed
Attach a sticky note to front title page with needed info: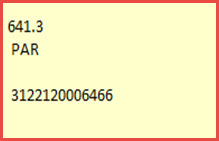 Old items that need to be rebound (only if approved by CMA Manager)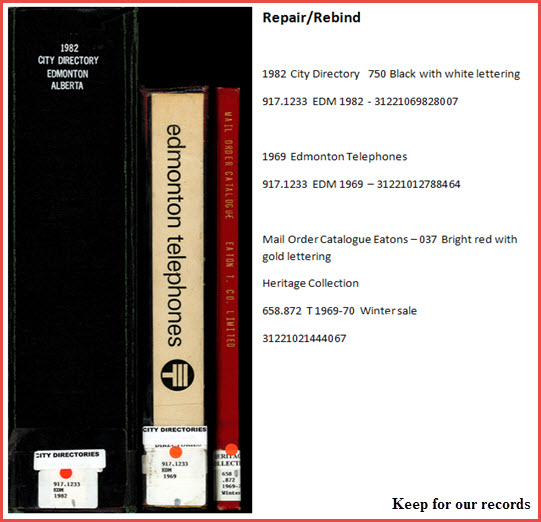 Make a list of all books checked out to the CMA-ATLASBIND#1 card that will be sent to commercial bindery, e.g.

Durabind (Permabind): Book with a paperback cover that has not received a plastic cover (i.e. Kapco Easy-cover). Includes books with spiral spines, soft cover books. The cover of the original book is cut, glued onto white paper, laminated and affixed to millboard. Title is imprinted on the spine.
Prepare as a rebind, underlining title and author.
If spiral bound indicate that the spiral is to be removed.
Library Board Meeting Minutes:
037 Bright Red -- one copy for the CEO's office
430 Bright Blue -- one copy for the North of 52 Collection
REF Bind
Gold uppercase lettering
Reference: Books such as atlases, dictionaries, or encyclopedias. A rebind-style cover will be supplied. If the item has been sent to the bindery in the past, it will be listed in the binder. Write the colour on an attached slip.
Before Sending Out:
Make sure there is a record of all items sent. (Duplicate slips for the flushbinds and a printout of the items checked out to the commercial bindery card -- CMA-ATLASBIND#1.)
Fill out the order slip for the binder stating the number of items that are being sent, the number of samples included, the number of corrections, and the number of boxes. Print slips as required using the Word document at

file:///S:\cat\Commercial%20Bindery\Commercial%20Bindery_2011\Order%20Slip.docx

.

Sample: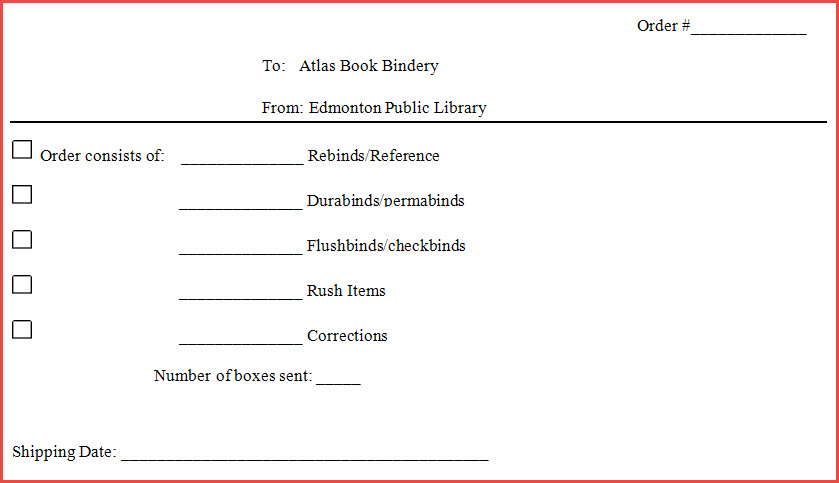 Pack material into boxes; keep the weight manageable.
Affix address label stickers to each box. The stickers are printed with the address of the commercial bindery (currently Atlas Book Bindery).
Contact Derrick in Facilities (Loading dock) and he will pick up the boxes. Have Derrick contact PDQ courier for pickup.
Record the number of items on the monthly statistics sheet under Com. Bindery.
Commercial bindery return:
Flushbinds:
Match the flushbind slips to slips inside each book. Check that spine information and color are correct. Remove slip from book and discard.
Check binding by opening book and ensure it will lie flat. Check that issues are in correct order and look for loose pages.
Print spine label for each one.
Count flushbinds and any samples sent and compare to CMA records.
Attach RFID tag to inside back cover of each volume.
Corrections: For items returned from the commercial bindery with faults, such as: wrong information on spine; item bound upside down; stitching too close to the print; no margin, etc. attach a slip of white paper to the item and record the problem and the original order #.
Rebinds:
Check binding and that pages are not upside down.
Check that spine information is correct.
Affix RFID tag to inside back cover
Print spine label, and if needed, affix barcode and enter.
Dust jacket can be placed on the book again.
Count all books and compare to CMA records.
Erase any underlining that was done in pencil.
Discharge all items from the CMA-ATLASBIND#1 card.
---
Discard items by checking them out to the DISCARD-BTGFTG card using the Checkout wizard in Symphony; override and checkout if any pop-ups appear.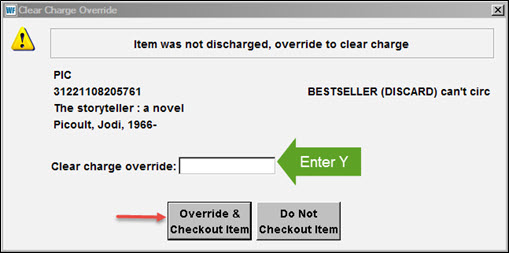 To override enter "Y" and click "Override & Checkout Item".
Disable the RFID tag using the 3M Pad Conversion software.

Select Disable Tag for conversion type, place item on pad and click disable tag.
Black out the barcode using a permanent marker and remove any routing/system hold slips from items.
Disposal
Items in decent condition may be placed in Better World boxes, labelled and sent to Booksale, unless a specific title (books only) is requested for the Edmonton Institute For Women book clubs.
Record the number of books sent to EIFW monthly; sample spreadsheet at S:\cat\Item Entry Procedures\WeededHTGstats.xlsx
Damaged books may be recycled in the large blue bins.
Damaged AV cases are recycled; discs are disposed of.
---
A survey of in-house use of library materials is conducted semi-anually.
Service point staff collect items from tables, etc. at specified intervals and use of items is counted by scanning a "dummy" barcode for the type of material, if it isn't catalogued with a unique barcode.
Barcodes for this purpose are prepared by CMA Item Entry Processors.
Each service point's three-letter code, the type of material the barcode represents and a barcode label are affixed to card stock or an 8.5" x 11" piece of paper. The template is available on the shared drive at: file:///S:\cat\Item%20Entry%20Procedures\In-house.Use.Survey.Template_2018.doc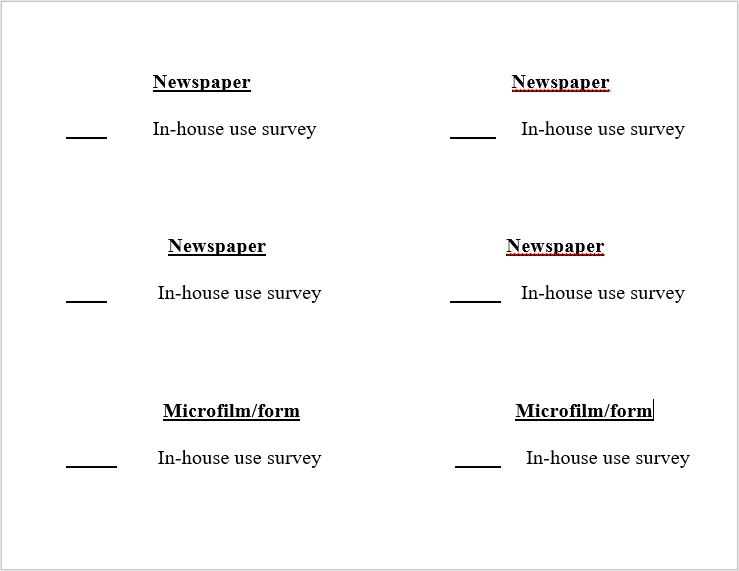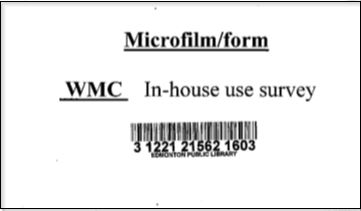 Additional cards with barcodes are supplied on request. The barcodes are attached to a shadowed record for each category.

Microfilm/form -- TCN a573387
Newspaper -- TCN a573388

If a previously used barcode comes up as Not-on-file, it may be reattached to the correct shadowed record for that category upon request.
---
Applicable to reference and circulating material
I. Do apply a Kapco Easy Cover to:
All softcover/paperback format items in the permanent collection (exceptions are listed in Section II below)
All items for the Indigenous Collection (all languages)
Coin books
Government publications as specified
Hockey news publications
Key study guides
Music scores
Self-counsel Press titles
Stamp catalogues (e.g., Scott, Stanley Gibbons, etc.)
II. Do Not apply a Kapco Easy Cover to:
Paperback/softcover format items in the PBK/mass market collection never receive a cover
Annual publications (all topics)
ASTM or other Standards
Australian Women's Weekly paperback publications
Bed and breakfast and hostel guides
Coil and Cerlox bound items
Computer books: (e.g. Dewey 004-006, 621.39, 651.8, etc.)
Cookbooks (if cover is durable)
Drug reference manuals (e.g. CPS, PDR family guide to prescription drugs Dewey 615s)
Free material does not receive a cover but discretion may be used
Government publications for branches
Graphic novels (includes juvenile, teen and adult)
H.W. Wilson library catalog supplements
Health and medical titles: (Dewey 615-619)
HP paperback publications
Investment, personal finance and tax guides (serials and monographs, Dewey 332s)
Large print books
Sports annuals (Dewey 796-798)
Sunset paperback publications
Telephone books, postal code directories, street address numerical directories (Dewey 910s)
Travel guides (e.g. Frommer's, Fodor's, Insight guides, Michelin, Baedeker, Dewey 910s)
World Language books
Saddlestitched material receiving a Kapco cover is to be reinforced by:
Placing 3M booktape on the innerfold sheet to prevent tear through at the time of cover installation
Trimming item to size prior to stitch reinforcement to reduce handling
Stitching for reinforcement is completed before moving material from cutter to final checking
---
A spine label featuring call number information is printed from the ILS for all catalogued library materials.
Each label is approximately 1" x 1.25" in size and has the call number information printed from the left margin in Arial 11 pt. bold font.
The call number information consists of numerics and/or alphabetical characters printed on several lines, to a maximum of seven lines.
The beginning of each new line is indicated by the use of a space in the call number field.
Affix on spine near bottom edge with first 3 digits clearly visible, or on the back cover lower right corner for items without a spine/very thin books.
Substitute arabic numerals for roman numerals on spine labels, e.g.,
Appendix III use Append. 3.
Spine label samples: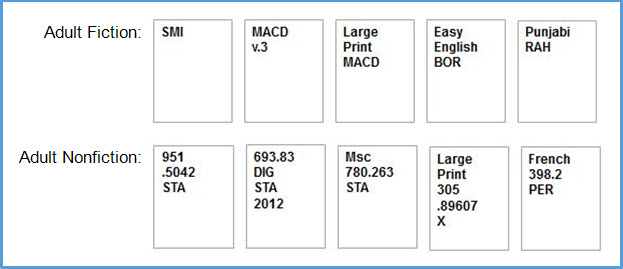 Print label placement examples: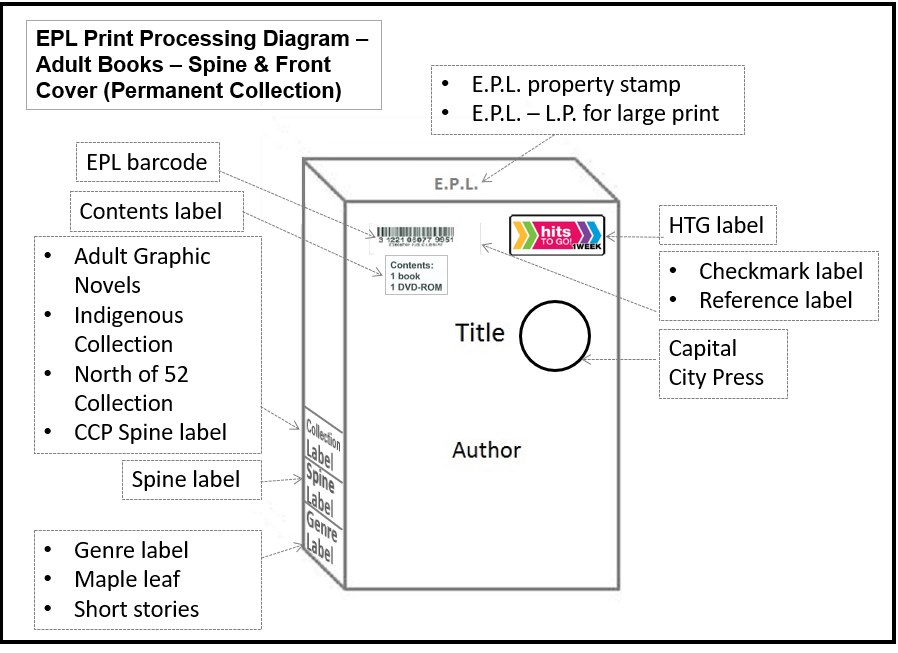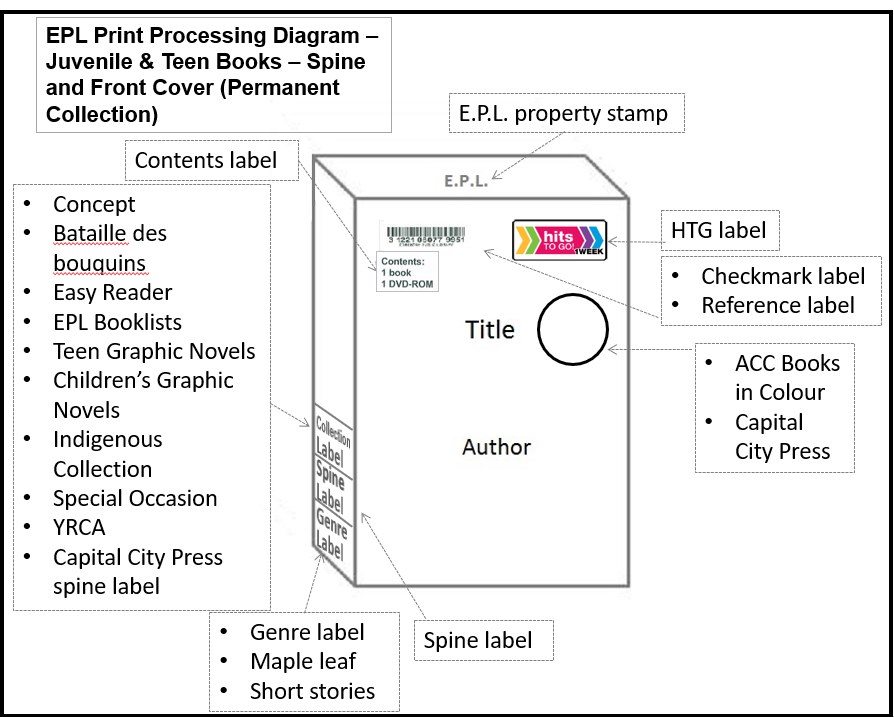 ---
Last revised: Sep. 19, 2023